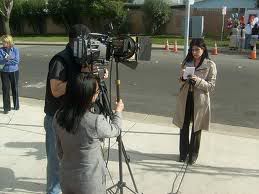 NBC Bay Area reporter Jodi Hernandez and photographer Rich Goudeau were outside the Alameda County Social Services building in Oakland yesterday afternoon getting ready to do interviews for a piece about state budget cuts when someone ran up and swiped the camera, tripod and all. Hernandez, who managed to file a story for the 5 o'clock newscast anyway,
told the Oakland Tribune
that the thief couldn't get the camera off the tripod and so it was sticking out of the getaway car as it sped away. The photo of Hernandez is from another story.
Image: Media_USA via Flickr