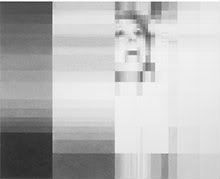 MATRIX 243, Oakland-based artist D-L Alvarez's first solo museum exhibition (starts Wednesday through October 7) at the Berkeley Art Museum and Pacific Film Archive draws from iconic Hollywood horror film imagery. Above, that's an abstracted image of Jamie Lee Curtis as Laurie Strode in John Carpenter's Halloween, trying to fight off a psychopath.
From the museum's news release:
For many, the utopian experiment of the 1960s ended with the Manson Family murders. The decade of countercultural idealism had found its nemesis, and Americans grew wary of social outliers. Horror films featuring grotesque Manson-like transgressions supplanted the more nuanced Hitchcockesque thrillers of the sixties. Likewise, television studios began to abandon tried-and-true sitcoms that offered harmonious caricatures of the American family in favor of more progressive depictions of a less stable family unit.