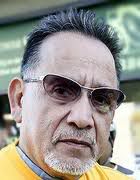 Long-time Oakland councilman and wanna-be mayor Ignacio De La Fuente is getting ready to ask the City Council to approve a November ballot measure to overturn the city's ranked-choice voting system, also called instant-runoff voting. But Robert Gammon at East Bay Express says there's more to De La Fuente's expected move next week than meets the eye.
From East Bay Express:
According to two City Hall sources, De La Fuente is considering a run against Councilwoman Rebecca Kaplan this November for her At-Large seat. If he does challenge Kaplan, then he would have to give up his own District Five council spot, representing the city's Fruitvale and Glenview districts. However, an anti-IRV ballot measure could boost his prospects against Kaplan, because it could allow him to effectively circumvent the city's campaign spending laws.

An anti-IRV campaign would likely be run by De La Fuente's campaign manager, Larry Tramutola. As such, Tramutola and De La Fuente would be able to raise unlimited funds for the anti-IRV effort, and then feature De La Fuente in ads touting the ballot measure — thus giving him free publicity for his run against Kaplan.