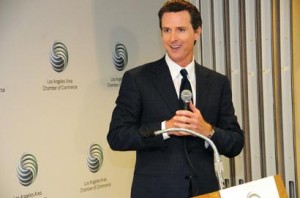 Is it any wonder why the Lite Guv and cable show host likes to stay away from Sacramento? John Upton recounts at SF Weekly how Newsom showed up Monday for a meeting of the State Lands Commission (on which he sits, constitutionally) at a hotel there only to duck out ahead of a controversial environmental vote. And for what? Face-time with an LA Area Chamber of Commerce group meeting at the same hotel.
The Lands Commission item involved PG&E's seeking permission to trawl sonic guns over protected wildlife areas in the Pacific Ocean near its Diablo Canyon nuclear power plant.
From the Upton post:
After arriving late to the Sacramento hearing, sipping tea from a Starbucks cup, Newsom faced two options, both of which were unsavory, especially for a sensitive politician who has his sights set on a higher office.

He could outrage environmentalists and fishermen by voting to approve the study.

Or, he could appear complacent about the dangers of earthquakes and nuclear power in the wake of the Fukushima meltdown.

So how did your green-branded, PG&E-funded Lieutenant Governor step up to this long-awaited occasion of great monument?

He fled.
Image: Then-mayor Gavin Newsom, campaigning before the Los Angeles Area Chamber of Commerce in 2009/ Los Angeles Downtown News